Milk drink for young children – produced in Switzerland
babina Plus is a nutritious and delicious milk drink for children, made to the top Swiss quality standards. With the utmost care and precision, we combine pure Swiss Alpine milk with all the valuable ingredients and nutrients your growing child needs.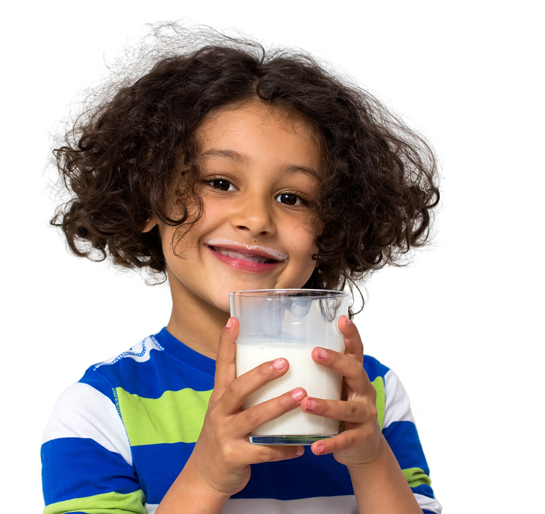 babina Plus
provides a unique combination of nutrients to meet the specific needs of young children.
contributes to your child's total daily nutritional requirements through its well-balanced composition.
acts as the perfect nutritional safety net, bridging the recommendations of experts and the actual intake of your growing child.
offers nutritional benefits over regular (cow's) milk.
is well tolerated by children and easy to use.
has a pleasant milky, vanilla taste.
can be used as a milk drink to complement a daily mixed diet and/or to prepare other foods, such as cereals, smoothies and milkshakes. Here you will find great recipes
The key nutritional elements of babina Plus and their positive features
Supports brain and eye development.
Essential fatty acids: ALA/LA = 1:7.4
Promotes the production of DHA & ARA.
Prebiotics (dietary fibre): FOS
Promotes gut health and provides protection
to support gut motility and soft stools.
to strengthen natural immunity.
Lactose as the main carbohydrate
The lactose in babina Plus is identical to that in milk.
Balanced amount of high-quality protein
Provides all essential amino acids – the building blocks for growth and development.
Appropriate supply of energy
For good growth and age-appropriate weight gain.
Balanced mix of beneficial micronutrients including (iron, calcium, iodine, vitamins A and D)
to support blood formation and brain development; to prevent iron deficiency
for good bone development and to support the immune system
to strengthen the body's defence system
to support cognitive development and healthy growth
Other nutrients: (added taurine, choline, inositol, L-carnitine)
For healthy growth and development.